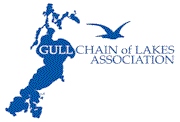 GULL CHAIN OF LAKES ASSOCIATION
Member Photo Gallery
This area is a place for members to share their favorite Gull Lake Chain area photos. If you would like to submit a photo, send it to webmaster@gcola.org (Dave Anderson). Please include a suggested caption and your name if you wish to have it included with the caption. As the photo gallery grows we may divide it into separate pages such as scenery, wildlife, Gala photos, etc. Your suggestions are welcome.
​
Click on any photo below to open a slide viewer. Image sizes will vary depending on the file size of submitted photos. Once the viewer is open, click on the right or left arrows to move through the gallery. Click on the X in the upper right hand corner of viewer to return to this page.
Double Duty, Ole and Lena back to back with minnows for twins
Altercation in loon social gathering
Bertsie with day old chick on back
Upper Gull loon fledgeling, Nov 2021
Protecting Natural shorelines protects loons!
Ole warning boater that came too close to chick
Ole in breeding plumage, Upper Gull
Flock of Pelicans on Bass Lk
Pair of eagles and their juvenile
Ole with chicks, one climbing on back
Ole protecting his family when a boat comes too close
Ole swallowing a good sized fish
Ole and Lena head to head after first returning to mating territory
Natural shorelines allow wildlife access to food and water.