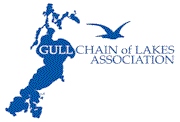 GULL CHAIN OF LAKES ASSOCIATION
​
STARRY TREK 2022
Lake-loving volunteers are needed across the state of Minnesota on Saturday, August 20, 2022 to participate in a search for starry stonewort—an aggressive, aquatic invasive algae that can spread easily and grows into dense mats at and below the lake's surface.
Starry Trek is an annual event where members of the public first gather at training sites to learn how to identify starry stonewort and other aquatic invasive species. The newly trained participants then branch out to local water accesses to search for signs of the invasive species.
​
Click here for the full details and volunteer for this important program from the U of M Aquatic Invasive Research Center.
SAFL PHASE II LAUNCH
​
Dear Friends –

Our team at the St. Anthony Fall Laboratory, UMN is excited to announce the launch of a second phase of research on boat-generated impacts on inland lakes and rivers.
​
In this next phase of study, we will focus on characterizing the propeller wash that is generated by various types of recreational boats, including wakesurf boats. This is a topic that we've heard a lot of concern about over the last few years, and the current body of knowledge is lacking, making this topic an ideal candidate for robust research. To get in the water as soon as possible, we are funding the research through a crowdfunding campaign and we would greatly appreciate your financial contribution to this effort. If a donation is not possible, simply spreading the word about our study would be much appreciated.
​
You can find a full summary of the research plan, budget and schedule on the Healthy Waters Initiative website. We've also included a link to the crowdfunding campaign website.

Thank you for your support!
Jeff Marr and Andy Riesgraf
St. Anthony Fall Laboratory, UMN
​
​
BLUE-GREEN ALGAE
​
When temperatures climb and the summer sun beats down, conditions are ripe for Minnesota lakes to produce harmful algae blooms, some of which can be harmful to pets and humans.
​
Click here to read full details from the MPCA about blue-green algae.
Click here for a simple no-cost test for blue-green algae from the MPCA.
​
​​​