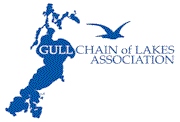 Gull Chain of Lakes Association
U OF M SAFL ENHANCED WAKE STUDY UPDATE
​
Steve Frawley, Government Relations Committee Member
​
The University of Minnesota St. Anthony Falls Hydrology Lab (SAFL) completed phase one of the enhanced wake study focusing on evaluating the impacts of large recreational watercraft on lake bottoms and shorelines in late October 2020.
​
The SAFL team has been busy processing the many thousands of data points from sensors placed at the lake bottom which will measure wave height, wave energy, near-bed turbulence, and propeller wash. On a positive note, the number of data points generated by the study far exceeded SAFL research team's initial estimates. This will result in a more comprehensive study with final results now estimated to be due in May 2021. This new expected timeline will also include a robust peer review process with Hydrology scientists at other leading universities. It is further anticipated that several additional areas will be reviewed encompassing the impact on the lake ecosystem, due to the extensive data collected.
​
We will continue to keep you informed as the study results are made available.
​​
​​
TOGETHER WE CAN STOP THE SPINY WATER FLEA - MAISRC
Spiny water flea is an aquatic invasive species that poses a serious
threat to the ecology and recreational value of Minnesota's lakes.
This tiny invasive zooplankton has a major appetite, which can cause
big problems in the food web, particularly for young fish and native fish.
Infestation of the spiny water flea is as close to Gull Lake as
Lake Mille Lacs, just 33 miles away.
​
How you can help

The tiny, spiny water flea can cause big problems for anglers, recreationalists and Minnesota's aquatic ecosystems. You can help stop the spread of spiny water flea by wiping off and drying your fishing gear when you leave the lake.

Before you leave the lake

Start by draining all water from your boat and gear, including the bilge, livewell, and bait buckets.

After draining, use a dry dishcloth or towel to:
Wipe fishing lines and reels

Wipe drained livewells

Wipe drained bait buckets

A recent study by MAISRC researchers suggests that wiping off fishing lines and reels is the quickest way to remove the most spiny water fleas in a limited amount of time.
​
Lines, reels, livewells, bait buckets and any residual water pose a risk of spreading spiny water flea from one lake to the next if not properly drained, cleaned and dried. To learn more about how recreational angling gear can contribute to the spread of spiny water flea, visit the research project page at https://www.maisrc.umn.edu/stopspiny
​
​
APPLY NOW TO WORK WITH CASS COUNTY!

Penmac Staffing offers job seekers FREE help finding employment. We are now looking for candidates to run the Decontamination Stations with Cass County. This is a physical job where employees will be operating a pressure washer. Must be able to work weekends. Starting pay is $18/hour! Penmac offers weekly pay, and health and retirement benefits. Apply today, and go to work right away!

Click here for more information
​
​
CROW WING COUNTY SEEKS SEASONAL WATERCRAFT INSPECTORS
Crow Wing County is currently seeking candidates for seasonal watercraft inspector positions. These positions conduct inspections of entering/exiting watercraft equipment at public water accesses, and will have frequent public contact with boaters to educate them about aquatic invasive species (AIS).
​
Click here for details on how to apply. Starting pay is $14 and hours range from 16-40 hours per week.
​
​
​