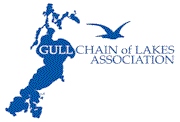 GULL CHAIN OF LAKES ASSOCIATION
When is ice safe? - MnDNR

There really is no sure answer. You can't judge the strength of ice just by its appearance, age, thickness, temperature, or whether or not the ice is covered with snow. Strength is based on all these factors -- plus the depth of water under the ice, size of the water body, water chemistry and currents, the distribution of the load on the ice, and local climatic conditions.
​
Full details on ice safety at: https://www.dnr.state.mn.us/safety/ice/index.html
Staying safe on cold water is everyone's responsibility - MnDNR (10-6-22)
​
The Minnesota Department of Natural Resources reminds anyone whose autumn plans include spending time on or around the water to keep safety in mind. While more boating-related accidents happen during the summer, boating fatalities are higher during the cold-water season.
​
For more information, including how to survive a fall into cold water, see the DNR's cold water safety page (mndnr.gov/ColdWater)
​
​
​SAFL PHASE II LAUNCH
​
Dear Friends –

Our team at the St. Anthony Fall Laboratory, UMN is excited to announce the launch of a second phase of research on boat-generated impacts on inland lakes and rivers.
​
In this next phase of study, we will focus on characterizing the propeller wash that is generated by various types of recreational boats, including wakesurf boats. This is a topic that we've heard a lot of concern about over the last few years, and the current body of knowledge is lacking, making this topic an ideal candidate for robust research. To get in the water as soon as possible, we are funding the research through a crowdfunding campaign and we would greatly appreciate your financial contribution to this effort. If a donation is not possible, simply spreading the word about our study would be much appreciated.
​
You can find a full summary of the research plan, budget and schedule on the Healthy Waters Initiative website. We've also included a link to the crowdfunding campaign website.

Thank you for your support!
Jeff Marr and Andy Riesgraf
St. Anthony Fall Laboratory, UMN
​
​
​​​