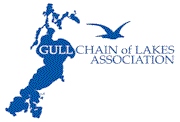 Gull Chain of Lakes Association
THE BENEFITS OF NATIVE AQUATIC PLANTS WORKSHOP
​
Click Here

to watch an interesting seminar on managing lake water quality by Raymond Newman from the University of Minnesota. Recorded on 8-25-21 at the Isanti County SWCD workshop.
​
​​

EMAIL REGARDING GULL LAKE DAM WATER LEVELS




Click Here

to read the 8-20-21 email update from Jay Chaney (GCOLA Safety & Recreation committee chair) regarding water levels and Army Corps of Engineers' plan for the coming months to minimize additional water loss on the Gull Chain. Just a reminder, the Gull Lake Dam is managed by the Army Corps of Engineers, not the lake association. GCOLA meets with Brian Turner from the Army Corps of Engineers on a regular basis to allow us to keep you up to date.
​
UPDATE ON WATER LEVEL FROM THE ARMY CORPS OF ENGINEERS
Click Here

to read the 8-13-21 update from Brian Turner who manages the Gull Lake Dam.
​
​
PERSISTENT LOW WATER CONDITIONS CONTINUE TO A AFFECT BOATERS - MnDNR (8-12-21)
People urged to consider removing watercraft early where water conditions are low
​
As water levels continue to drop due in many areas to drought, boaters are experiencing significant issues with launching and retrieving boats, according to the Minnesota Department of Natural Resources.
​
DNR crews are repairing and extending many boat launch ramps to provide boating opportunities in these low-water conditions. However, little can be done to fix boat ramps on naturally shallow lakes or in places where power loading has caused holes that are too deep to fix with equipment.
​
​
​
​
​
​
"Boat ramps that were damaged by power loading provide not only a challenge to launching, but can also result in damage to boats, motors and trailers," said Nancy Stewart, DNR's statewide water recreation program lead. "Boaters should always use caution and check the ramp and water levels before launching."
​
The DNR is encouraging shoreland homeowners who have seasonally docked watercraft to monitor water levels frequently and keep their eye on the available boat removal options for their waterbody. If options are limited, boaters should consider removing their watercraft earlier than usual, before conditions worsen. Assistance may also be available from lake service providers with the capability to remove watercraft using larger commercial equipment.
​
Boaters also should be aware of new obstructions in the water, such as rocks, stumps and sand bars that may not typically be an issue but are now creating hazards due to low water levels.
Visit the DNR website for boat launching maps and information about power loading.
​
​
DROUGHT CONDITIONS AFFECTING AREA LAKES
​
The updated drought monitor page can be located at:
https://droughtmonitor.unl.edu/CurrentMap/StateDroughtMonitor.aspx?MN
​
The lake levels at the Gull Lake Dam can be found at:
https://rivergages.mvr.usace.army.mil/WaterControl/stationinfo2.cfm?sid=GLLM5&fid=&dt=S
​
​
STARRY STONEWORT FOUND IN LEECH LAKE - DNR NEWS RELEASE - JULY 19, 2021
​
The Minnesota Department of Natural Resources has confirmed the invasive algae starry stonewort
in Leech Lake in Cass County.
​
A company removing aquatic plants contacted the DNR when its staff suspected finding starry stonewort near Anderson's Cove Resort in Steamboat Bay. A DNR invasive species specialist confirmed starry stonewort throughout the marina, around and under docks and boats.
​
Click here to read the entire story.
​
​
U OF M SAFL ENHANCED WAKE STUDY UPDATE
​
U of Minn St Anthony Falls Lab Wave and Propeller Wash Study May 28, 2021 Update

The University of Minnesota Saint Anthony Falls Lab (SAFL) has been analyzing the boat-generated wave and propeller wash data collected this past October. Many GCOLA members have inquired as to the findings and status. The attached link provides a comprehensive update by Jeff Marr, project team leader on this study. Please review this letter and in the event you have questions contact GCOLA board member Steve Frawley at: frawleys@gmail.com

For detailed information about study status:
https://sites.google.com/umn.edu/healthywatersinitiative/project-updates
​​
​​
TOGETHER WE CAN STOP THE SPINY WATER FLEA - MAISRC
Spiny water flea is an aquatic invasive species that poses a serious
threat to the ecology and recreational value of Minnesota's lakes.
This tiny invasive zooplankton has a major appetite, which can cause
big problems in the food web, particularly for young fish and native fish.
Infestation of the spiny water flea is as close to Gull Lake as
Lake Mille Lacs, just 33 miles away.
​
How you can help

The tiny, spiny water flea can cause big problems for anglers, recreationalists and Minnesota's aquatic ecosystems. You can help stop the spread of spiny water flea by wiping off and drying your fishing gear when you leave the lake.

Before you leave the lake

Start by draining all water from your boat and gear, including the bilge, livewell, and bait buckets.

After draining, use a dry dishcloth or towel to:
Wipe fishing lines and reels

Wipe drained livewells

Wipe drained bait buckets

A recent study by MAISRC researchers suggests that wiping off fishing lines and reels is the quickest way to remove the most spiny water fleas in a limited amount of time.
​
Lines, reels, livewells, bait buckets and any residual water pose a risk of spreading spiny water flea from one lake to the next if not properly drained, cleaned and dried. To learn more about how recreational angling gear can contribute to the spread of spiny water flea, visit the research project page at https://www.maisrc.umn.edu/stopspiny
​
​