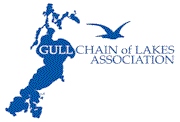 GULL CHAIN OF LAKES ASSOCIATION
Our leadership team is made up of a wide variety and backgrounds and experience
but all have one motivation in common which is:
OUR MISSION STATEMENT:

The Gull Chain of Lakes Association is an alliance of individuals, families and business owners in the Gull Chain of Lakes in Cass and Crow Wing Counties. The Association is devoted to the restoration and continued preservation of the highest water quality and environmental standards achievable, promotion of the responsible use of land and water resources and recreational safety on the Gull chain of lakes.
Steve Frawley
Chair
Robert Eliason
Board Member
Uldis

Birznieks




Board Member
Joel Meyer
Board Member
Jay Chaney
Co-Chair
Tim Thoele
Board Member
TBD - Minnesota DNR
Area Fisheries Supervisor
​
Janele Waterman
Crow Wing County A.I.S.
Kathy Lundberg
Communications Chair
Dan Simons
Fisheries Chair
Steve Timblin
Crow Wing County A.I.S.
Sheila Johnston
Loon Conservancy Chair
Dorothy Whitmer
Lake Steward Chair