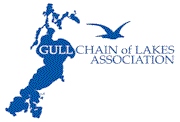 Gull Chain of Lakes Association
Boating Safety
​
GCOLA offers free ​​YOUTH BOAT SAFETY CLASSES
2021 Youth Boat Safety Classes are on!
Great news! Once again, this summer, GCOLA, in conjunction with the Crow Wing and Cass County Sheriff's Departments will be offering Youth Boat Safety Classes for ages 12-17 at the Gull Lake Yacht Club. Due to high demand, the plan is to host three classes this summer. In past years, we have offered two classes. Additionally, the classes last summer were cancelled due to the Covid-19 pandemic, so there will likely be more demand this summer.

The three class dates are as follows. Wednesday June 9th at 9 am, Thursday June 10th at 9 am, and Wednesday July 14th at noon. The classes are generally four hours in length. To register for the class of your choice, please contact Mary Kay Larson at 218-831-5656.

Our "in-person" class is unique in that it allows attendees to get "hands-on" experience, while operating a boat with a Sheriff's deputy. In addition, all attendees will receive a life jacket to take home, courtesy of Gull Chain of Lakes Association. Upon completion of the class, students will receive a Minnesota Watercraft Operator's Permit. This permit is required for any person 12-17 years of age to operate a motorized boat over 25 horsepower.
​
The class is free and students will receive a pizza lunch, courtesy of Zorbaz on Gull. Class size is limited to 25 students per class so sign up early. In the event that our classes are full, or you prefer a class that isn't in person, it can be taken online. You can find a link to the course below this message. Note: The Minnesota DNR does charge a fee for the online class..
​
Please consult local safety protocols at the time of your chosen date as to the need for masks or additional Covid-19 related safety protocols.
​
Boating is a lifelong passion for many of us, and this is your chance to start the youth in your family down the same path. Safety and good habits start early, and the in-person, hands-on course provides a great foundation. My own daughters attended the classes and the lessons learned there have become ingrained for life.
​
Jay Chaney - GCOLA Safety/Recreation Committee Chair and Board Member
​
Minnesota DNR Boat & Water Safety Education
​
​
​
Safety on the water is the responsibility of everyone involved. The Minnesota DNR offers education opportunities listed on the following website page: Boat and water safety education - MnDNR

Watercraft Operator's Permit - Complete the online boating safety course to receive a youth Minnesota water operator's permit (12 to 17 years old). In addition, this course may be required for youth and adults who plan on boating in Canada.
​
​
Water Sports Industry Assoc (WSIA) proper boat usage guidelines
The Water Sports Industry Association is dedicated to the proper use of all water sports boating, especially wake board boats. They have allowed us to link to their website and feature videos and other water sports safety information.
​
With boating safety being more important than ever, driver's etiquette is of equal importance, so we can continue to enjoy our activities long into the future. Learn how to drive respectfully, so we can all enjoy our waterways without having issues. WSIA cannot stress the importance of this enough. Thank you for helping us spread the word.

WSIA Captain's Etiquette Video:
​
​
​
​