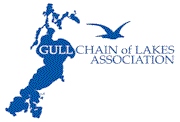 Gull Chain of Lakes Association
​
​
​
​
​
​
The Gull Chain of Lakes Association promotes shoreline habitat projects. GCOLA is providing grants for restoration projects and can connect you with other sources of funding. Property owners in the city of Lake Shore can also be eligible for a grant. Cass County and Crow Wing County Soil and Water Conservation Districts may be another source of funding for Cass and Crow Wing County property owners.

Please contact Sheila Johnston (sheilafjohnston@me.com) for more information and to inquire about grants. Kris Driessen also volunteers with the Shoreline Habitat Program.
​
We recommend reading the following DNR brochure: The Water's Edge (brochure)
​
The best place for more information is the DNR's Restore Your Shore site: http://www.dnr.state.mn.us/restoreyourshore/index.html This large site has a lot of information on different types of shoreline problems and solutions as well as a native plant encyclopedia as as the Score Your Shore Quick Guide.
​
Lakescaping for Wildlife and Water Quality by Carrol Henderson, Carolyn Dindorf and Fred Rozumalski published by the DNR is a great printed reference. It's available through the state's Minnesota Bookstore (1 800 657-3757). It is a great reference and contains much of the same information as is on the Restore Your Shore web site.
​
​
Alternatives to Riprap

Property owners along the shore of a lake frequently see disturbing changes on their shoreline due to wave action in the summer, ice heaves and pressure ridges in the winter, and moving lake-ice damage in the spring. Although riprap seems like a logical way to protect the shoreline, natural vegetation is a better alternative for most sites. If riprap is already in place on your property, it is not necessary to remove it. Do not spray the riprap with herbicides. If you let nature take its course, native plants such as jewel weed, milk weed, and blue flag iris may naturally germinate, and you can plant native plants within the riprap material.
​
Click here to read suggested alternatives to riprap (2.4MB file).
​