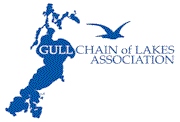 GULL CHAIN OF LAKES ASSOCIATION
LOON LOVERS NEEDED
Calling all loon lovers! Your help is needed for GCOLA's loon surveys. We have three surveys planned, the Nest Survey, July Adult Loon and Chick Survey, and our end of August Juvenile Survey.
Survey Dates
Nest Survey, May 23-June 5 (Nesting survey may be done any day or multiple days within the time frame window.)

Adult and Chick Survey, July 28 (Rain Day, July 30) 8:00 to 10:00 am

Juvenile Survey, August 27 (Rain Day, August 28)
Click here to sign up. Please indicate which surveys you would like to do. Please include your name and email address.
2014 to 2021 Loon Survey Results
Click here to read a detailed report about loons on the Gull Lake Chain.
Click here to read the 2019 report
Click here to read the 2021 report
Click here to read the 2014-2021 nest data
​
​