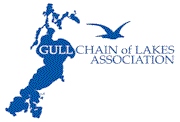 Gull Chain of Lakes Association
Loon Survey
We are expanding the Loon Survey to include a final September survey. We will begin the season with a nesting site survey, and we need volunteers to survey nesting sites throughout the Gull Chain of Lakes between May 23rd and June 7th. The summer survey will take place during the week of July 13th. We will survey adults and chicks. The final survey will take place between August 17th and 23rd. Volunteers may sign up for one, two, or three surveys. Our goal is to survey nesting sites throughout the chain, and identify reproductive success and survival. With this information we hope to protect nesting sites and support survival of adults and chicks.
​
How to Get Involved: To get involved with any of the volunteer opportunities please email us at info@gcola.org. Please join us to "get loony" and volunteer to protect our loons!
2014 to 2019 Loon Survey Results
Click here to read a detailed report about loons on the Gull Lake Chain.
Click here to read the 2019 report
​
​