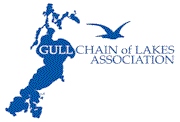 Gull Chain of Lakes Association
Lake Steward Program

We Need You!
"Unless someone like you cares a whole awful lot,
Nothing is going to get better. It's not."
Dr. Seuss
Lakes are the jewels in nature's crown. Like all valuables, our lakes need to be protected.
Who could care more for our lakes than the people who love them and live on them? That someone is you!
​
In order to protect the water quality of our lakes, GCOLA has initiating a Lake Steward Program, and we are inviting all property owners on the Gull Chain of Lakes to get involved. Protecting water quality means appropriately managing the land use around the lake and within the watershed to reduce the amount of pollution that enters the lake. The first step is to "score your shore." We are inviting all Gull Chain of Lakes property owners to complete our Score Your Shore Mini Assessment. Click Here to reach the Score Your Shore Mini Assessment survey. The assessment will take just two minutes of your time to complete, and it will provide you with valuable information about your property. If you would like to dig deeper, the Minnesota DNR offers a Score Your Shore Quick Guide that is more comprehensive. The Quick Guide can be found at www.dnr.state.mn.us. Enter Score Your Shore in the search field at the DNR website.
Once the Score Your Shore Mini Assessment survey has been completed, there are simple steps lake property owners can take to become better shoreland stewards.
Protect existing native trees, shrubs, and plants.
Stop fertilizing and using lawn chemicals. If you water your lawn with water pumped from the lake, use of chemical fertilizer is unnecessary because the lake water already contains nitrogen and phosphorus. If you feel you need to fertilize, first have your soil tested. If you feel you must fertilize, do so once a year, in the fall.


We highly recommend no broadcast spraying of insecticides and pesticides. Please be kind to pollinators.
"No mow, let it grow!" This is the simplest and least expensive way to restore shoreline and add a natural buffer to the lakeshore. Once mowing stops, native plant species may germinate and grow in the buffer. There is no cost, and minimal planning and effort is necessary. First, stop mowing a 10 to 15 foot wide strip of grass near the water's edge. If you have a beach, the buffer can be directly behind the beach. As native plants reestablish, you can increase the buffer zone by expanding the un-mowed area. A buffer of native vegetation will help prevent erosion and will intercept some of the nutrients and pollutants that would otherwise enter the lake.
If you don't like the look of an un-mowed buffer, you can plant a buffer of native wildflowers and sedges. Bushes or trees can also be added. Check the GCOLA website for resources on planting a buffer, and information on our Shoreline Habitat Program and matching grants for approved projects. A buffer of native plants will add color and beauty to your shoreline and provide food and habitat for birds, butterflies, and other pollinators.
While riprap or placement of boulders on the shoreline is not a recommended means of reducing erosion, it is not necessary to remove it. Do not spray the riprap with herbicides or pull plants. If you let nature take its course, native plants such as jewel weed, milk weed, and blue flag iris may naturally germinate, or you can plant them within the riprap.
Have your septic system tested and keep it working properly.
Use low or no-phosphorus soaps and detergents.
Links to publications that provide excellent information on shoreland stewardship and lakescaping can be found on the GCOLA website under Shoreline Habitat.
After you have taken some steps, score your shore again and celebrate your progress as a Lake Steward!
Property owners who commit to eliminating the use of fertilizer and other lawn chemicals, and who have native plants covering a total of 75% of the shoreline buffer zone with a depth of at least 25 feet may qualify for a Lake Steward sign that can be displayed on their property or on the end of the dock.
If you have questions, would like a Lake Steward sign, or are interested in taking a more active role in GCOLA's Lake Steward Program, please email Dorothy Whitmer, lakesteward@gcola.org. Lake Steward will model best practices on their shoreland properties and will be sources of information for property owners who are interested in making lake friendly changes. As we grow the program, there will be opportunities for seed sharing, site visits, and involvement in annual chain-wide shoreline assessments.
We know you care a whole awful lot, so please become a Lake Steward and join in protecting the lakes we love!
​
​
​
​
​
Congratulations Lake Stewards!
Click on any photo for a larger view