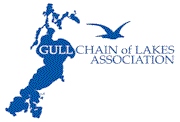 GULL CHAIN OF LAKES ASSOCIATION
STEWARDS




FOR THE




GULL LAKE CHAIN
Sharon Spahr and Wes Streed with Laddie, Gull Lake
GCOLA has over 1,000 members including lake property owners and businesses that benefit from the lakes as well as others concerned citizens who want to stay informed and make a difference.
Your tax free support of GCOLA is needed now more than ever as we face the threat of more invasive species. Please make your donation by clicking on the button below
Volunteers make GCOLA possible. We have opportunities at all levels of the organization including board membership.
​
​
New DNR tool - health information for lakes
Cold water boating safety
SAFL Phase II study announced