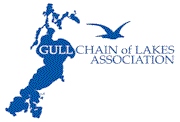 GULL CHAIN OF LAKES ASSOCIATION
STEWARDS




FOR THE




GULL LAKE CHAIN
Fall colors getting started
Sandy and Randy Hobbie on right, with close friends Mike and Kim Wehrman, Gull Lake
Upper Gull eagle perched on top of pine
By Sheila Johnston
Fall colors getting started
GCOLA has over 1,000 members including lake property owners and businesses that benefit from the lakes as well as others concerned citizens who want to stay informed and make a difference.
Your tax free support of GCOLA is needed now more than ever as we face the threat of more invasive species. Please make your donation by clicking on the button below
Volunteers make GCOLA possible. We have opportunities at all levels of the organization including board membership.
​
​
SAFL Phase II study announced
Check out the all new Lake Steward pages
LOON LOVERS NEEDED
​
Calling all loon lovers! Your help is needed for GCOLA's loon surveys. We have three surveys planned, the Nest Survey, July Adult Loon and Chick Survey, and our end of August Juvenile Survey.
Survey Dates​​
Juvenile Survey, August 27 (Rain Day, August 28)
Click here to sign up. Please indicate which surveys you would like to do. Please include your name and email address.
​
If you see a sick or injured loon, please call
Sheila Johnston at 612 226-6571